Exosome Capture And Qualification Assay Kit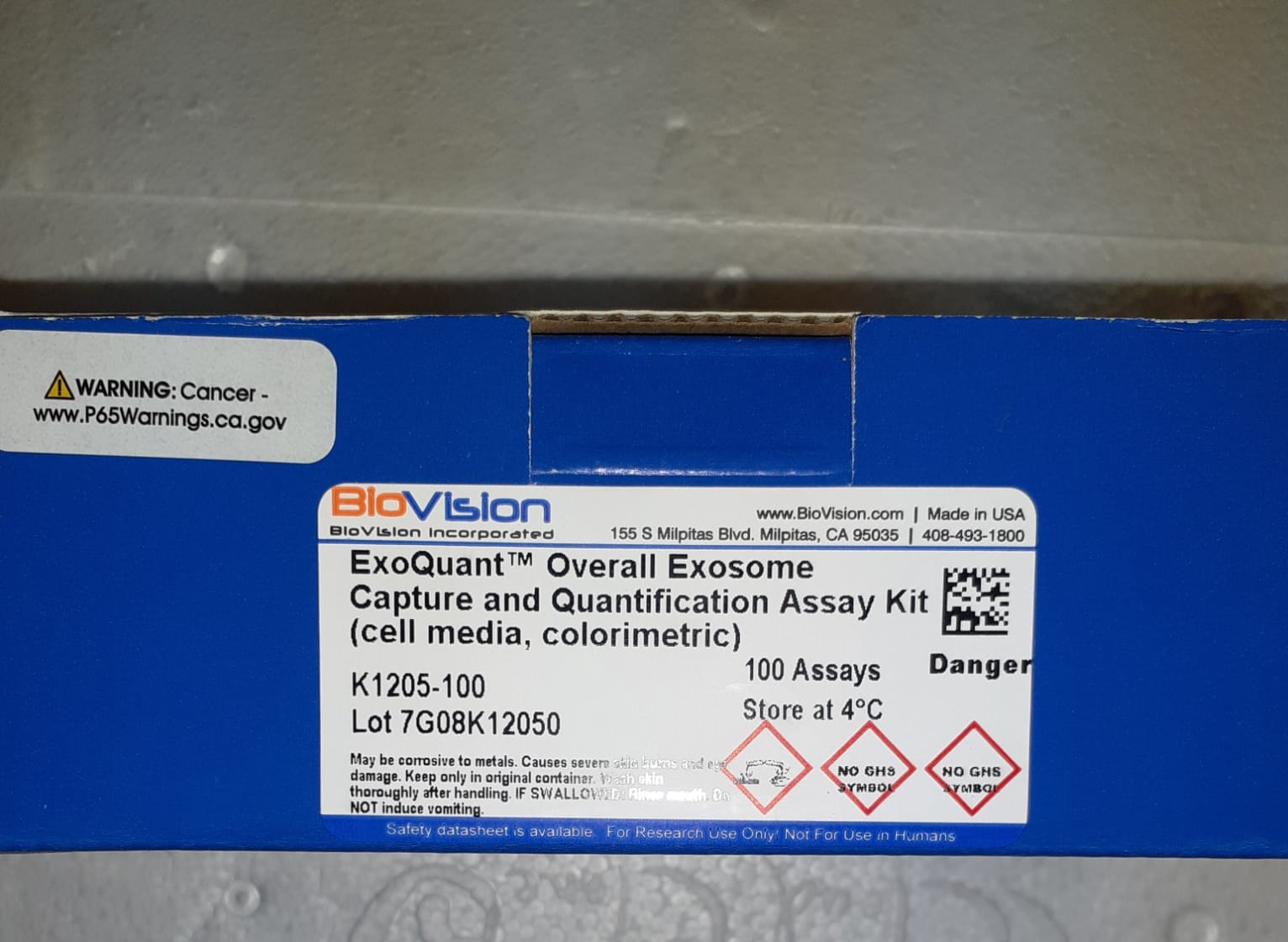 Exo-TEST: ready to use ELISA quantification kits
ExoTEST is a patented double sandwich ELISA assay for quantitative and qualitative analysis of exosomes. In particular ExoTEST is a successful platform for exosomes quantification and characterization from small amount of human biological fluids or cell media and it may be exploited to identify exosomes released by cancer cells in the plasma and urine of tumor patients in various disease conditions.
ExoTEST consists of ELISA plates pre-coated with patented panexosome antibodies that allow specific capture of exosomes from a variety of biological samples, including cell culture supernatants and human biological fluids. Quantification and characterization of exosomal proteins is then performed using appropriate detection antibodies against exosome-associated antigens, which can be either generic or cell / tissue specific exosomes. Lyophilized exosome standards characterized by protein content and particle number (NTA) allow the quantification of an unknown sample by a standard calibration curve.
Applications: Capture and quantification of exosomes from human biofluids and culture media. Exosome complex profiling. Preclinical research on non-invasive biomarkers for the detection and monitoring of a number of pathological conditions (inflammation, cancer, neurodegeneration, etc.).
Advantages: Ready to use, no initial purification of exosomes is required. User-friendly and suitable for the analysis of multiple markers. Available in TEST format (limited to 3 ELISA strips, 24 wells).
Reference:
Musante, L., Tataruch-Weinert, D., Kerjaschki, D., Henry, M., Meleady, P., & Holthofer, H. (2017). Residual extracellular urinary vesicles in ultracentrifugation supernatants after enrichment by dialysis by hydrostatic filtration. Journal of Extracellular Vesicles, 6 (1), 1267896.
Foster, B. P., Balassa, T., Benen, T. D., Dominovic, M., Elmadjian, G. K., Florova, V., … & Kyvelidou, C. (2016). Extracellular vesicles in the blood, milk and body fluids of the female and male urogenital tracts and with special regard to reproduction. Critical Reviews in Clinical Laboratory Sciences, (just accepted), 1-47.
Tas, F., Karabulut, S., Tilgen Yasasever, C., & Duranyildiz, D. (2015). Clinical significance of serum caveolin -1 levels in patients with melanoma. International Journal of Dermatology.
Zarovni, N., Corrado, A., Guazzi, P., Zocco, D., Lari, E., Radano, G., … & Chiesi, A. (2015). Integrated isolation and quantitative analysis of exosome-transmitted proteins and nucleic acids using immunocapsura approaches.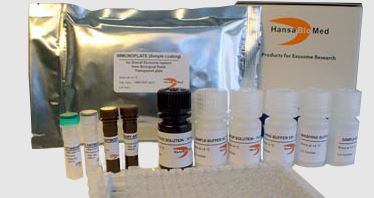 Methods.
Miller, I. V., & Grunewald, T. G. (2015). Tumor-derived exosomes: Tiny envelopes for big stories. Biology of the Cell, 107 (9), 287-305.
Hong, C. S., Muller, L., Boyiadzis, M., & Whiteside, T. L. (2014). Isolation and characterization of CD34 + blast-derived exosomes in acute myeloid leukemia. PLoS One, 9 (8), e103310.
Tetta, C., Ghigo, E., Silengo, L., Deregibus, M. C., & Camussi, G. (2013). Extracellular vesicles as an emerging mechanism of communication between cells. Endocrine, 44 (1), 11-19.
Vishnubhatla, I., Corteling, R., Stevanato, L., Hicks, C., & Sinden, J. (2014). Development of stem cell-derived exosomes as cell-free regenerative medicine. J. Circ. Biomark, 143, 2.
Logozzi, M., De Milito, A., Lugini, L., Borghi, M., Calabrò, L., Spada, M., … & Fais, S. (2009). High levels of exosomes expressing CD63 and caveolin-1 in the plasma of patients with melanoma. (4), e5219.
Sarcosine Assay Kit

MET-5072

Cell Biolabs

100 assays

EUR

450
Phospholipid Assay Kit

MET-5085

Cell Biolabs

96 assays

EUR

456
Adenosine Assay Kit

MET-5090

Cell Biolabs

100 assays

EUR

508
Urea Assay Kit

STA-382

Cell Biolabs

192 assays

EUR

635

Description: Cell Biolabs? Urea Assay Kit is based on the Berthelot reaction.  Urea is first degraded into ammonia and carbon dioxide, which further reacts with an alkaline developer to produce a blue-green colored product that can be measured with a standard spectrophotometric plate reader at an optical density between 580-630 nm.  Each kit provides sufficient reagents to perform up to 192 assays, including blanks, urea standards and unknown samples.
Phosphatidylcholine Assay Kit

STA-600

Cell Biolabs

96 assays

EUR

519

Description: Cell Biolabs? Phosphatidylcholine Assay Kit measures the phosphatidylcholine present within serum, plasma, or tissue samples.Samples are compared to a known concentration of phosphatidylcholine standard within the 96-well microtiter plate format.  Samples and standards are incubated for 60 minutes and then read with a standard 96-well fluorometric plate reader.
Sphingomyelin Assay Kit

STA-601

Cell Biolabs

96 assays

EUR

519

Description: Cell Biolabs? Sphingomyelin Assay Kit is a simple fluorometric assay that measures the amount of sphingomyelin present in plasma or serum, tissue homogenates, or cell suspensionsin a 96-well microtiter plate format.  Each kit provides sufficient reagents to perform up to 96 assays, including blanks, sphingomyelin standards and unknown samples.  Sample sphingomyelin concentrations are determined by comparison with a known sphingomyelin standard. 
Glutamate Assay Kit

STA-674

Cell Biolabs

200 assays

EUR

514

Description: Glutamate is a non-essential amino acid that serves as an important neurotransmitter in the mammalian brain and has a key role in cellular metabolism. Excess glutamate levels in the brain can cause cell injury and death, leading to neurological diseases. Our Glutamate Assay Kit is a quantitative, fluorometric assay that uses glutamate specific enzymes to generate hydrogen peroxide. An ADHP probe is oxidized by hydrogen peroxide to generate fluorescent Resorufin, which correlates to the level of glutamate in the sample. Glutamate levels in an unknown sample are calculated based on a glutamate standard curve.
Hydroxyproline Assay Kit

STA-675

Cell Biolabs

96 assays

EUR

514

Description: The Hydroxyproline Assay Kit is a quantitative colorimetric assay for measuring the hydroxyproline concentration in protein samples, including collagen where it is found almost exclusively.
Histamine Assay Kit

AKR-360

Cell Biolabs

96 assays

EUR

519

Description: Histamine is naturally occurring in food, with high concentrations associated with spoiled and fermented foods. Exposure to high levels of histamine through the ingestion of food can cause symptoms similar to an allergic response. Our Histamine Assay Kit detects total histamine from food samples using a colorimetric probe. Reduction of the probe yields color development proportional the histamine levels in the sample. Absorbance at 450nm is read after a one hour incubation at 37C and histamine levels are calculated based on a histamine standard curve.
Glucose Assay Kit

abx090673-1Kit

Abbexa

1 Kit

EUR

237
ADA Assay Kit

abx090675-100tests

Abbexa

100 tests

EUR

237
Glutamate Assay Kit

abx096004-100Assays

Abbexa

100 Assays

EUR

441
Glutathione Assay Kit

abx096005-100Assays

Abbexa

100 Assays

EUR

378
Trehalase Assay Kit

abx096014-100Assays

Abbexa

100 Assays

EUR

551
Pyruvate Assay Kit

abx097982-100Assays

Abbexa

100 Assays

EUR

472
NADPase Assay Kit

abx097983-100Assays

Abbexa

100 Assays

EUR

504
Starch Assay Kit

abx097988-100Assays

Abbexa

100 Assays

EUR

441
Trehalose Assay Kit

abx097995-100Assays

Abbexa

100 Assays

EUR

472
ADA Assay Kit

abx098403-Hitachi7060R190ml2R290ml1

Abbexa

Hitachi 7060; R1: 90ml×2 R2: 90ml×1

EUR

739
ADA Assay Kit

abx098403-Hitachi7170R140ml4R220ml4

Abbexa

Hitachi 7170; R1: 40ml×4 R2: 20ml×4

EUR

801
ADA Assay Kit

abx098403-Hitachi7170R160ml4R260ml2

Abbexa

Hitachi 7170; R1: 60ml×4 R2: 60ml×2

EUR

911
ADA Assay Kit

abx098403-Toshiba40R150ml4R250ml2

Abbexa

Toshiba 40; R1: 50ml×4 R2: 50ml×2

EUR

786
Calcium Assay Kit

abx098414-Hitachi7020R140ml2R240ml2

Abbexa

Hitachi 7020; R1: 40ml×2 R2: 40ml×2

EUR

206
Calcium Assay Kit

abx098414-Hitachi7060R190ml1R290ml1

Abbexa

Hitachi 7060; R1: 90ml×1 R2: 90ml×1

EUR

206
Calcium Assay Kit

abx098414-Toshiba40R140ml2R240ml2

Abbexa

Toshiba 40; R1: 40ml×2 R2: 40ml×2

EUR

206
Calcium Assay Kit

abx098414-UniversalR140ml2R240ml2

Abbexa

Universal; R1: 40ml×2 R2: 40ml×2

EUR

206
Cholinesterase Assay Kit

abx098416-Hitachi7170R120ml1R25ml1

Abbexa

Hitachi 7170; R1: 20ml×1 R2: 5ml×1

EUR

300
Cholinesterase Assay Kit

abx098416-Hitachi7170R140ml3R230ml1

Abbexa

Hitachi 7170; R1: 40ml×3 R2: 30ml×1

EUR

316
Cholinesterase Assay Kit

abx098416-Hitachi7170R160ml2R230ml1

Abbexa

Hitachi 7170; R1: 60ml×2 R2: 30ml×1

EUR

316
Cholinesterase Assay Kit

abx098416-Toshiba40R140ml4R240ml1

Abbexa

Toshiba 40; R1: 40ml×4 R2: 40ml×1

EUR

331